How Much Does Homeowners Insurance Cost in Illinois?
March 16, 2021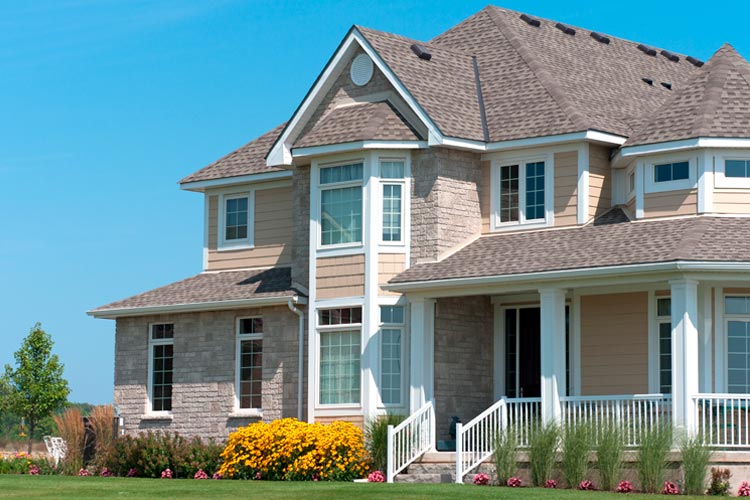 Insurance Content Navigation
Without the right coverage, just one catastrophe could be absolutely devastating to a homeowner. A natural disaster or act of vandalism could cause extensive property damage that you aren't able to repair on your own. Fortunately homeowners insurance exists to help us prepare for these incidents and more.
Even better, Illinois independent insurance agents can not only help you find the right homeowners insurance policy for you, but also provide you with specific quotes and rates for your area. They know all the factors that determine your policy's cost. But before we jump too far ahead, here's a deep dive into homeowners insurance and how it's priced.
Average Cost of Homeowners Insurance
To know how homeowners insurance rates stack up in your area, it's helpful to compare them to the national average that US residents pay. Knowing average figures for home insurance allows you to plan how coverage will fit into your budget. Here are some figures for home insurance averages in Illinois and the US overall:
Home insurance in the US costs $1,211 annually.
Home insurance in Illinois costs $1,056 annually.
Illinois ranks 29th out of all states for the most expensive home insurance rates.
Illinois residents pay about $155 less annually for coverage than the US average.
An Illinois independent insurance agent can help you find more exact figures for your specific city and home.
How to Calculate Home Insurance in Illinois
To calculate the cost of your home insurance policy, you'll want to enlist the help of an Illinois independent insurance agent. They're well aware of all the specifics that go into determining the cost of various insurance types. They're also familiar with home insurance rates for the area you live in, down to the neighborhood. Better yet, they're also familiar with how to earn the discounts offered by many home insurance companies, and they'll help you find them.
Illinois Home Insurance Cost Factors
According to insurance expert Paul Martin, several factors are considered to ultimately determine the price of your home insurance policy. A lot of these factors relate to the actual home itself. Here are a few common examples:
Loss history of the home: Some homes are historically tough to maintain, due to poor construction or other factors. The greater the loss history of a home, the more expensive its rates are likely to be, even if it's been through several different owners.
The condition of the roof: Home insurance companies love newer, better-constructed roofs, as they shield the house from numerous disasters. As a result, homes with newly constructed roofs often receive a break on their insurance premiums.
The home's age: Newer homes are often cheaper to insure, which could be contrary to popular belief. Older homes often require more upkeep and are riskier to insure, and thus are more expensive when it comes to home insurance.
Value of any home updates: Updated wiring, plumbing, AC units, furnaces, etc. can earn you a break on your home insurance premiums, since they lead to an overall safer building to insure.
An Illinois independent insurance agent can help you find quotes and exact costs for homeowners insurance coverage in your area. They can also inform you of even more factors that determine your policy's cost.
Home Insurance Stats
Just how important is home insurance? When considering how necessary it is for you to get coverage, it can help to know just how much US residents as a whole are paid by home insurance companies each year.
Incurred losses for homeowners insurance in the United States from 2012 to 2018 (in billion US dollars)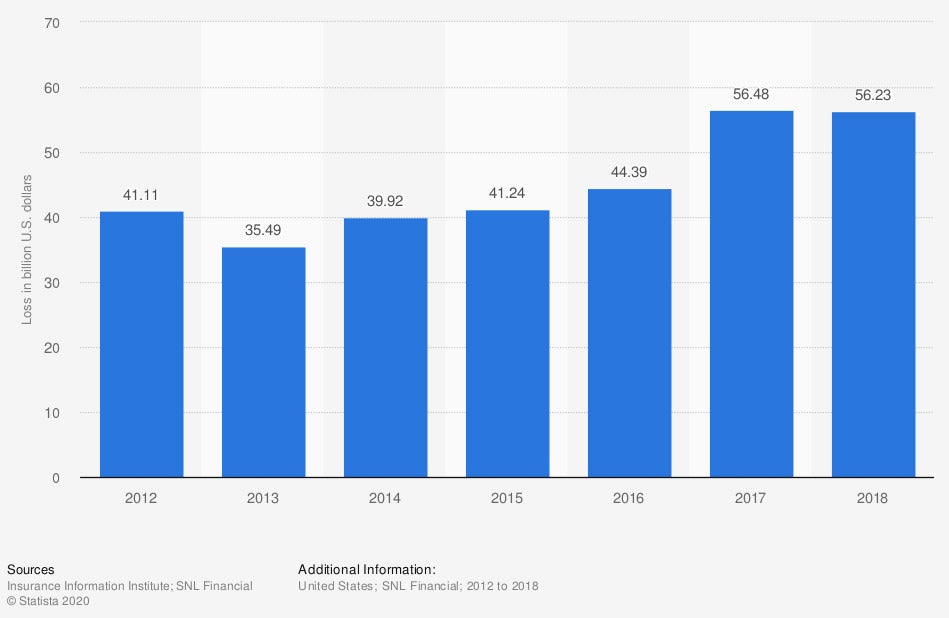 In the observed period, the amount of incurred losses for homeowners insurance has grown quite a bit. In 2012, homeowners insurance companies reported $41.11 billion in losses. By 2018, this amount had risen considerably, to $56.23 billion.
Clearly homeowners insurance companies handle frequent, costly claims. Without this coverage, you could be stuck having to pay for huge losses out of your own pocket. Speak with an Illinois independent agent further about the importance of home insurance for you.
What Does Home Insurance Cover in Illinois?
Standard homeowners insurance provides coverage for not only the actual building of your home, but other factors as well. These include:
Additional living expenses: Provides coverage for extra costs if your home becomes temporarily uninhabitable after a covered disaster. Expenses such as hotel stays are covered.
Liability protection: Provides reimbursement for legal fees if you get sued by a third party for claims of bodily injury or personal property damage.
Contents damage: Provides coverage for your personal belongings such as clothing, silverware, etc. for listed perils.
Structural damage: Provides coverage for the dwelling of your home against listed perils, like hurricanes and fires.
An Illinois independent insurance agent can give you even more information about what your homeowners insurance policy covers.
What Doesn't Home Insurance Cover in Illinois?
Homeowners insurance in Illinois, like anywhere else, can't cover absolutely everything. According to Martin, some common coverage exclusions under most home insurance policies are:
Disasters like floods and earthquakes
Maintenance and routine upkeep losses
Insect damage or infestations
Damage from war or nuclear fallout
Some types of explosions
Business liability costs
Your Illinois independent insurance agent can help address any concerns you may have about what your home insurance policy doesn't cover, and potentially add extra coverages necessary onto your policy.
Here's How an Illinois Independent Insurance Agent Can Help
When it comes to helping Illinois homeowners calculate the cost of their home insurance premiums, no one's better equipped to help than an independent insurance agent. Illinois independent insurance agents search through multiple carriers to find providers who specialize in home insurance, deliver quotes from a number of different sources, and help you walk through them all to find the best blend of coverage and cost.
chart - https://www.statista.com/statistics/428998/incurred-losses-for-homeowners-insurance-usa/
iii.org
irmi.com
©

2023

, Consumer Agent Portal, LLC. All rights reserved.