Does Home Insurance Cover Fire Damage in Illinois?
March 10, 2021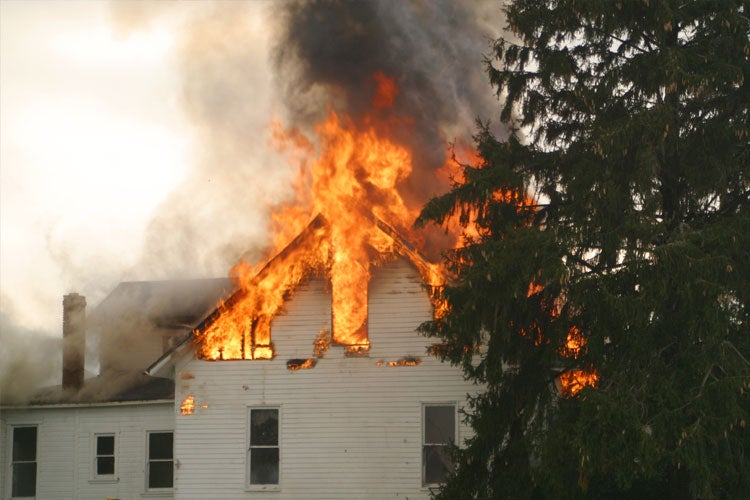 Insurance Content Navigation
As a homeowner, the last thing you ever want to see is your home (and savings account) go up in flames. Unfortunately, house fires can and do happen, which is why it's so important to have the right protection. Having an adequate Illinois homeowners insurance policy can at least seriously help cushion the financial blow of a house fire.
Better yet, an Illinois independent insurance agent can help you get equipped with the right kind of homeowners insurance to protect against fire damage and more. They'll get you set up with all the coverage you need, long before you have to file a claim. But first, here's a closer look at homeowners insurance in Illinois, and when/how it covers fires.
Does Homeowners Insurance Cover Fire in Illinois?
According to insurance expert Jeffery Green, fire is a listed peril in standard homeowners insurance in Illinois. Certain insurance companies may only cover what are classified as "hostile" fires, meaning a fire that unintentionally spreads from the area it was meant to be confined to, or otherwise gets out of control and causes damage. But in general, yes, homeowners insurance covers fire damage.
Is Fire Insurance Mandatory?
Fire coverage is included in standard homeowners policies in Illinois, so it's not necessary to get a separate policy. Homeowners insurance isn't necessarily mandatory, but it's a critical protection for your home that guards against many perils beyond fire. Having the proper homeowners insurance can help prevent bankruptcy if a huge disaster causes a large amount of destruction and your home must be rebuilt.
Does Homeowners Insurance Cover Other Disasters in Illinois?
Yes, homeowners insurance provides important protection against numerous disasters, no matter where you live. While your policy may vary slightly, standard homeowners insurance generally covers the following perils and more:
Fire, explosions, and smoke
Water damage
Aircraft or vehicle damage
Theft, riots, and vandalism
Falling objects (and trees)
Windstorms, hail, lightning, and blizzards
To be sure of what your homeowners insurance policy covers, work together with an Illinois independent insurance agent. They can help you review your existing policy, buy a new policy, or add more coverage if you're lacking in any area.
Fire Stats for Illinois
When considering fire damage, you may not think it's a huge threat to your home. But house and structural fires happen more often than you might expect, and anticipating these disasters is crucial to your safety as a homeowner.
In fact, fire damage is one of the original perils homeowners insurance was designed to protect against. Check out some fire stats below and see for yourself.
About 481,500 fires occur in structures in the US annually.
Structural fire damage costs the US $12.287 billion annually.
Homeowners insurance companies receive 58.4% of all fire insurance claims.
Fire losses account for 32.7% of all homeowners insurance claims.
There were 339,500 reported home fires in 2019.
Knowing that fires are a common and costly disaster affecting homeowners across the US every year, it's imperative to be equipped with enough protection. An Illinois independent insurance agent can make sure you're set up with the right coverage.
What Does Homeowners Insurance Cover in Illinois?
Homeowners insurance protects not only the structure of your home, but also your belongings and more. According to Green, the standard protections offered in homeowners insurance across the country include:
Dwelling coverage: This coverage aspect protects the structure of your home from perils like lightning, fire, vandalism, and more.
Contents coverage: Protects your belongings inside the home and sometimes in external structures from fire damage, theft, and more.
Liability coverage: Protects you from lawsuits filed by third parties for claims of bodily injury or property damage by covering legal expenses like attorney fees.
Additional living expenses: This coverage pays for additional expenses if your home becomes temporarily uninhabitable, forcing you to live elsewhere. Coverage pays for the cost of hotel rooms, extra gas mileage, and more.
An Illinois independent insurance agent can get you equipped with all the homeowners insurance you need to feel safe.
What Isn't Covered under Homeowners Insurance in Illinois?
Though homeowners insurance in Illinois provides a generous amount of coverage, there are some perils that it just can't include. Common exclusions under standard homeowners insurance policies in Illinois are:
Insect damage or infestations
Damage from war or nuclear fallout
Business-related liability
Floods, earthquakes, and mudslides
Maintenance-related losses
Routine upkeep costs
In Illinois, a state that's often prone to flooding, it's important to look into getting flood insurance to protect you, since homeowners insurance won't cover damage related to this natural disaster. An Illinois independent insurance agent can help you find coverage.
Here's How an Illinois Independent Insurance Agent Can Help
When it comes to protecting Illinois homeowners against fire damage and all other threats, no one's better equipped to help than an independent insurance agent. Illinois independent insurance agents search through multiple carriers to find providers who specialize in homeowners insurance, deliver quotes from a number of different sources, and help you walk through them all to find the best blend of coverage and cost.
iii.org
Statista
irmi.com
©

2023

, Consumer Agent Portal, LLC. All rights reserved.